School is over for another year and Kidlet is now halfway through Elementary School. How did that happen? I feel like if I dare to blink I will look up and he will be taller than me and shaving. That whole "they grow up so fast" thing is not a joke. I used to think people who said that were silly but now I know the truth.
In celebration of another year well done, I made cupcake cones! Cupcakes inside an icecream cone, what could be better? Not much in Kidlet's opinion.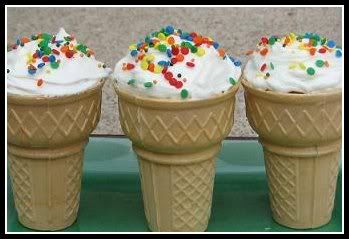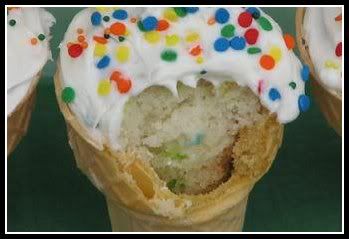 Recipe (Okay so it's not even really a recipe but it tells you how to get it done!)
______

1 box cake mix
1 ready made frosting
1 lg. box ice cream cups (not the sugar cones, the flat bottom ones)
Directions
_________
Make cake mix as directed on box. Arrange cones in a rectangle 9"x13" cake pan. Fill cones 2/3 with cake mix. Bake as directed for cupcakes on cake mix box. Cool, frost, and enjoy.