The recipe in this post is not healthy. At all. So take a few deep breaths and bear with me! Kidlet and I suffered a difficult loss last week when my Grandmother passed away. She was an amazing lady and the world is a sadder place without her. The recipe I am going to share with you is one of hers that we love very much!
But first, lunch!
Main Compartment: Boca Chik'n patty sandwich, carrots and dip.
Large Side Compartment: Strawberries
Small Side Compartment: Rice Krispy Treat
Now for the treats! These are called Gramma's Cheatin' Rice Krispy Treats because when my cousins were little they told their mom that Gramma's treats were better than hers! And she said that Gramma cheats! She cheats by using a big bag of chocolate and butterscotch chips instead of a small! Yum!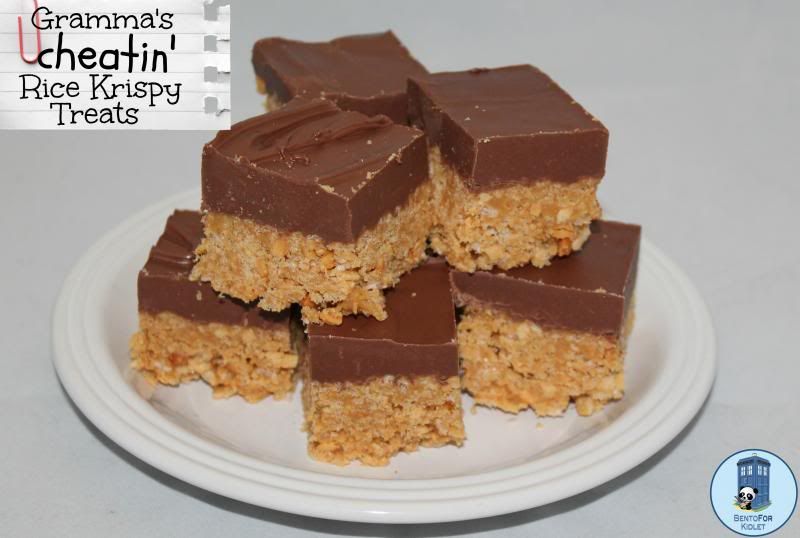 Gramma's Cheatin' Rice Krispy Treats
______________________________
Ingredients:
1 Cup granulated sugar
1 Cup light corn syrup
6 Cups Rice Krispys
1 1/2 Cups chunky peanut butter
1 12oz packages chocolate chips
1 12oz package butterscotch chips
Directions:
1.) Melt corn syrup and sugar in a saucepan over medium heat until the sugar has dissolved.
2.) Turn off the heat and stir in the peanut butter until smooth
3.) In a large bowl, coat rice krispys in the mixture
4.) Press in to a 9x13 pan. TIP: Line the bottom with a piece of parchment paper for easier removal
5.) Melt chocolate chips and butterscotch chips in the microwave, 30 seconds at a time. Don't burn!
6.) Pour chocolate mixture over the rice krispys
7.) Refrigerate for 30-60 minutes until the chocolate is firm. Slice and store at room temperature.