Arrrrr me hearties! Today be International Talk Like a Pirate Day and this be the only sentence in which I will do so. :)
Welcome to another year of celebrating all that is piratey! Pillaging, plundering, and singing charming sea chanties. I'm participating in a Blog Hop with my bento buddies again so be sure to click on the flag at the end of the post to see the next epic lunch!
Main Compartment: Peanut Butter and Jelly sandwich with Cheese Pirate
Large Side Compartment: Salad with Cheese ARR
Small Side Compartment: Strawberries with a skull and crossbones
Now check out what my shipmate Karen has for you over at
What's In Our Lunch Bags?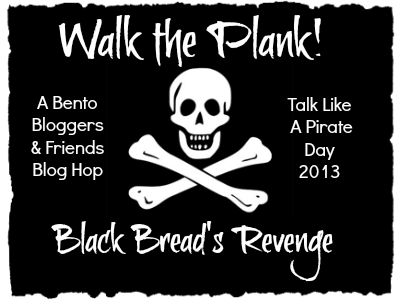 And when you're done there check out the next ship for another hop of piratey goodness
here